RPJ Guitar Works, Tallahassee, Florida
Marketing Presence, Guitar Repair, Guitars for Sale
Website:
www.rpjguitarworks.com
We have 35 years of service and repair under my belt, and a passion for making people smile upon receipt of their instrument. We do it all from adjustments to pickups, installs on acoustic and electric guitars and basses. I've done all of it: headstock breaks, re-glue bridges, braces, top cracks, you name it!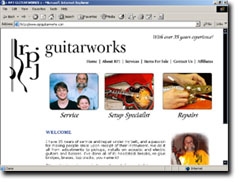 Our web development project with RPJ Guitar Works included complete design of the website incorporating the latest web standards and technology including PHP/MySQL, CSS. We incorporated their logo, and colors into the design concept to produce an acceptable and aesthetically pleasing layout for the website and provided the following services Website Design, Database Developent, Web Hosting, and Website Maintenance. The website is compatible with all tablets and mobile devices, and cross-browser compatible. The website includes Integration of social media (Facebook, Twitter, LinkedIn, YouTube, etc.), Search Engine Optimization and Submission, and Ongoing Support via Maintenance Agreement or as needed.