Uptown Storage Center: Self-Storage Facilities in Tallahassee. 2781 Alexis Lane (Capital Circle NE), Tallahassee FL 32308, Tallahassee, Florida
Dynamic SEO, Responsive Design, Payment Portal (Sitelink)
Website:
www.storageuptown.com
Uptown Self-Storage Center is located in Tallahassee, FL at 2781 Alexis Lane (Capital Circle NE), Tallahassee FL 32308. They are a locally owned family business, with over 15 years of self-storage experience. Their state-of-the-art storage facility which is located in the heart of Tallahassee, just north of Capital Regional Medical Center. Their location is conveniently located in between Mahan Drive and Miccosukee Road on the east side of Capital Circle NE, just minutes away from I-10 and a short drive to many nearby neighborhoods, midtown, Universities, downtown, both hospitals and state agencies.They are dedicated to providing their customers with a modern, safe, clean and secure self-storage experience. Call them today to reserve your unit or reserve online.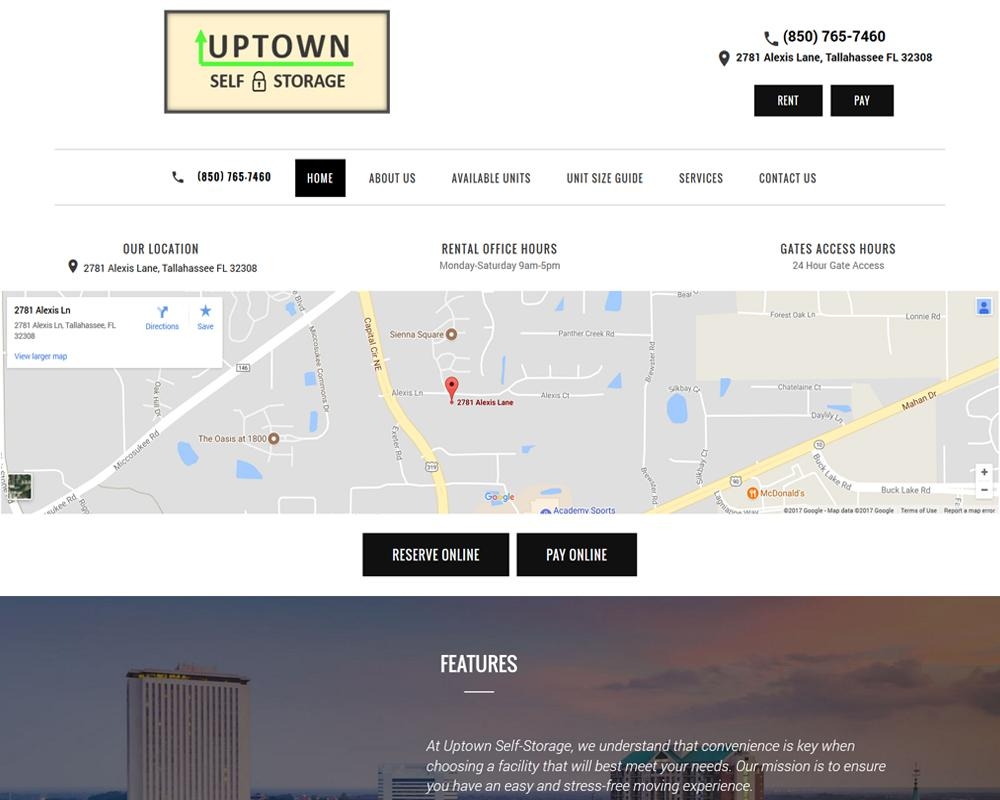 Our web development project with Uptown Storage Center: Self-Storage Facilities in Tallahassee. 2781 Alexis Lane (Capital Circle NE), Tallahassee FL 32308 included complete design of the website incorporating the latest web standards and technology including PHP, CSS, JQuery, HTML, Mod Rewrite. We incorporated their logo, and colors into the design concept to produce an acceptable and aesthetically pleasing layout for the website and provided the following services Responsive Mobile Friendly Website Design, Website Design, Web Hosting, Website Maintenance, and Search Engine Optimization. The website is compatible with all tablets and mobile devices, and cross-browser compatible. The website includes Integration of social media (Facebook, Twitter, LinkedIn, YouTube, etc.), Search Engine Optimization and Submission, and Ongoing Support via Maintenance Agreement or as needed.